The performance of industrial enameling furnaces may gradually decline over time.
This may result in higher energy consumption (read increased enameling cost) and reduced quality of the coated surface.
In extreme cases the enameling furnace may even unexpectedly break down, because insulation has been damaged and/or worn out.
Therefore we suggest regular inspections & thermal imaging to identify major heat bridges and other spots with possible insulation issues.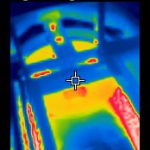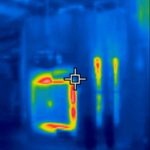 Enameling furnaces
Curing or firing a porcelain (vitreous) enameling coating is done in high temperature enameling furnaces.
In the early days these enameling furnaces were made of refractory bricks, due to the required firing temperature between 800 and 850 degrees Celsius.
However, such bricks are sensitive for thermal shocks and need to be heated up & cooled down very slowly.
Therefore modern enameling furnaces are nowadays made of Low Thermal Mass insulation materials, like stone wool, vermiculite & ceramic fibers. Continue reading "Enameling furnaces"