Impact fusion of powder paint may cause contamination issues at the cyclone of multicolour powdercoating systems.
It is therefore advisable to inspect and if necessary clean the ducting & cyclone of your powdercoating booth regularly.

Because manual mechanical isn't easy and chemical cleaning is hazardous, we recommend to clean your cyclone with special selected cleaning pellets as shown below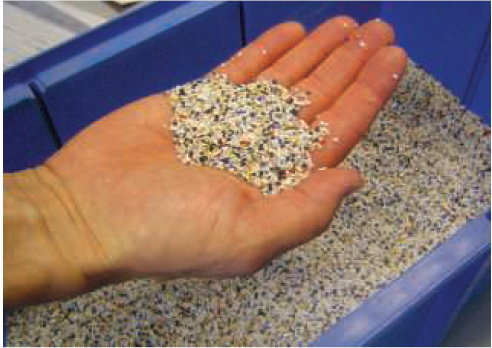 The cleaning operation can be done as frequently as is necessary, daily, weekly or monthly depending upon the powder
types and volumes used.
To clean, pellets are simply placed in to the inlet and left to circulate for an hour.
The pellets are carefully selected to be suspended in the air stream and abrasively remove the fused powder.
The removed impacted powder is so fine that it is carried out and collected in the after filter.
The cleaning pellets may be re-used several times, as they fall to the collection hopper when the airflow is turned off.
Order Cyclone Cleaning Pellets